Game: Institute for Human Continuity
Type: Dead drop
Location: 4411 Lemmon Ave, Ste 105, Dallas, TX (Zeus Comics and Collectibles)
Date: October 28, 2009, 1-3pm
Status: Concluded
We don't have the exact address for this drop yet, but then again, if you were interested in going, you should have checked out the gas stations yesterday and the day before and you would know what comic book store this is taking place. I expect Charlie Frost to tweet the location at about 1pm CDT, so stay tuned.
Update: So, with 30 minutes to spare (or 15 minutes since Twitter seems to be slow today), Charlie Frost tweeted the next location.
Zeus Comics and Collectibles
4411 Lemmon Ave, Ste 105
Dallas, TX

Wednesday, October 28, 2009
1-3pm

Codeword: 2012
---
Update:
Laura E. Hall
was kind enough to go to this last minute event and sent in the
pictures and files
from Zeus Comics.
Photo.jpg through Photo4.jpg are pics I took of the package, which had some schematics, a USB stick and a pre-paid phone (with a note from Aerospacce Robotics Corporation saying it had limited credit so don't use it for private calls). The three other jpgs are the same as the prints included in the envelope.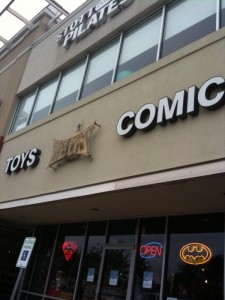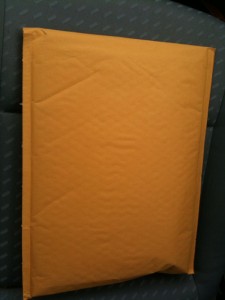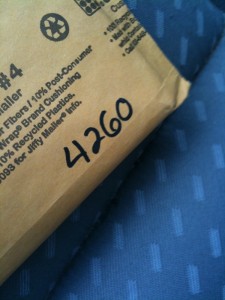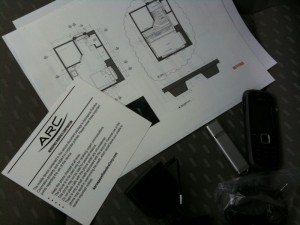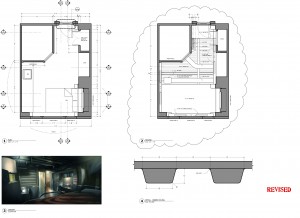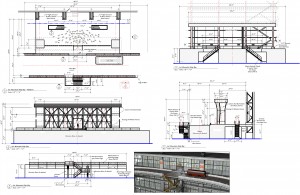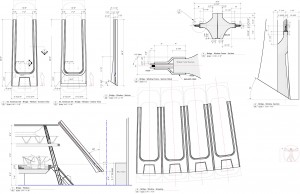 3-6-12-5 6-6-1-2 2-11-3-2 7-2-3-1 6-3-1-3 2-7-2-5 2-6-4-1 2-7-1-1 3-2-4-4 4-1-3-3 11-10-14-1 11-2-1-1 10-1-2-2 12-2-4-3 12-3-6-1 8-5-1-1 8-2-1-2 9-2-1-3

11-6-17-1 11-8-2-4 9-4-1-2 8-3-2-8 1-2-11-1 2-8-1-4 1-2-4-1 1-3-4-6 2-3-5-1 1-1-6-1 1-4-4-4 4-4-1-1 3-2-1-10 6-6-2-1 4-5-1-1 4-7-1-1 4-7-1-2 4-5-2-1 6-4-1-4 5-4-1-2 9-3-15-1 2-9-2-1 2-9-1-3 5-4-3-4 5-4-3-5 5-1-3-1

6-6-1-4 3-1-1-2 5-7-6-1 5-5-1-2 5-4-2-1 4-3-1-7 2-7-1-4 1-2-2-3 1-1-8-2 2-5-3-2 2-3-3-10 2-4-1-4 5-1-2-2 2-12-1-4 2-8-1-9 2-5-2-1 2-1-5-4 1-4-3-5 2-2-7-2 2-1-4-4 1-2-3-4 6-5-7-1 6-5-8-2 7-6-1-5 9-5-2-1 9-4-2-2 9-5-1-13 11-11-2-6 8-4-3-9 11-12-5-1 11-12-4-1 11-12-3-1 11-10-2-1 11-1-3-4 11-4-1-7 9-7-1-2 9-1-2-1 12-1-10-1 12-1-6-1 6-3-1-3 6-3-1-2 5-1-2-1 7-5-1-1 5-7-1-2 5-6-1-2 4-2-1-4 4-3-1-1 4-3-1-2 3-6-3-3 3-6-3-4 2-1-2-1 1-3-1-2 1-2-1-1 1-4-1-3 1-4-1-4 4-2-1-3 5-5-1-1 6-4-1-2 6-4-1-1 5-2-2-7 7-1-5-1 7-2-1-2 7-6-1-5 6-1-3-3 7-1-4-1 7-2-1-4 6-4-1-3 7-1-2-2 11-3-1-3 11-9-1-2 11-2-1-1 10-4-1-2 9-8-1-2 9-6-1-3 9-1-2-1 10-1-4-1 10-1-4-2 9-5-1-1 9-2-1-4 8-3-2-3 12-2-1-4 11-10-1-2 12-2-1-3 8-5-1-7 10-4-4-1 10-4-4-2 9-8-1-5 8-4-1-3 8-4-1-2 9-6-1-2 11-12-1-3 6-1-1-8 6-4-1-4 6-5-1-3 4-2-1-3 3-1-1-3 2-8-1-3 2-4-1-3 5-5-7-1 5-7-5-1 5-4-3-3 5-2-2-4 4-4-1-3 2-6-1-3 1-2-1-5 5-2-1-2 5-4-3-4 5-2-1-2 5-2-2-3 5-1-2-4 4-4-1-2 3-7-1-1 3-3-1-5 2-9-1-3 5-1-2-2 2-12-1-3 2-1-2-2 1-3-1-3 1-1-2-1 2-8-1-2 4-5-1-7 7-1-2-3 6-4-1-2 6-4-1-4 6-1-1-4 5-1-4-2 5-1-2-5 4-5-1-4 3-7-1-2 3-4-1-1 3-3-1-4 3-1-4-3 6-4-1-3 6-2-1-2 7-6-1-5 7-5-1-1 6-4-1-2 2-11-1-1 2-11-1-3 2-2-1-3 2-2-1-4 9-8-1-1 9-8-1-3 9-8-1-4 8-1-2-3 9-1-2-4 12-2-1-4 11-5-1-1 11-5-1-2 11-4-1-3 11-12-1-1 11-11-1-3 11-1-2-3 9-8-3-1 11-3-2-2 12-2-1-3 11-7-2-3 9-6-2-1 11-5-1-2 12-3-1-4 9-3-2-3 11-7-1-1 12-4-1-2 11-11-1-4 12-2-2-4 10-4-1-4 9-4-1-2 8-3-1-1 8-3-1-3 8-2-2-1 9-6-1-3 11-5-1-2 12-4-1-3 12-2-1-3 12-1-4 11-5-2-2 9-2-1-9

9-1-4-1 10-2-1-2 11-5-2-1 9-8-3-1 9-8-1-4 9-1-2-4 9-6-1-2 9-1-2-4 9-1-2-4 9-5-1-4 9-5-1-3 11-10-1-3 12-1-1-2 11-2-1-1 10-4-1-2 9-8-1-2 9-8-1-3 9-3-2-2 11-9-1-1 2-12-1-3 2-11-1-3 2-8-1-3 2-2-2-5 1-2-1-2 2-1-2-1 2-2-1-1 2-2-1-3 2-3-1-1 2-1-1-3 2-4-1-4 1-1-3-1 2-11-1-2 3-3-1-5 4-4-1-3 5-6-1-1 6-4-1-2 7-4-1-2 5-4-3-4 5-2-1-2 5-2-2-3 5-2-2-4 4-4-1-4 3-7-1-1 2-7-1-5 2-7-1-1 2-2-1-1 2-1-2-5 1-4-1-1- 2-2-2-1 2-8-5-4 2-11-7-8 2-8-1-8 2-7-1-4 2-2-2-1 2-2-1-3 3-4-1-3 2-12-1-2 2-11-1-5 5-7-1-1 4-2-1-1 3-5-1-1 3-2-1-3 2-3-1-2 2-3-5-1 1-1-2-2 1-2-1-5 2-11-1-1 2-10-1-1 3-2-1-5 5-5-2-6 5-5-2-1 2-10-1-2 2-2-1-4 2-1-2-1 2-7-1-1 4-2-3-1 3-8-1-4 6-3-1-3 7-1-2-5 7-6-1-5 7-4-1-2 7-3-1-3 11-12-5-1 11-1-2-3 9-8-1-3 9-6-1-4 9-2-1-2 8-5-1-1 8-3-1-3 9-3-2-1 9-6-1-3 10-1-2-3 10-3-7-1 9-7-3-2 9-6-2-1 9-2-4-2 8-2-2-1 9-1-3-2 2-1-2-1 1-3-1-2 1-2-1-1 1-4-1-2 2-2-2-1 2-7-1-1 3-5-1-1 3-6-1-2 2-10-1-5 5-4-5-1 4-1-1-3 3-6-2-1 2-9-1-2 2-7-1-1 1-4-1-1 11-2-1-2 10-3-1-1 9-1-2-4 8-4-1-3 10-2-2-4 10-2-2-3 11-2-2-2 11-9-1-4 11-6-1-2 9-7-1-2 12-4-1-4 12-1-1-3 10-1-3-2 3-2-1-2 2-8-1-4 1-3-3-1 7-6-2-1 7-1-2-2 4-4-1-1 4-3-1-2 3-8-1-1 3-6-1-2 2-2-1-1 2-2-1-2 1-3-2-1 2-4-1-4 2-12-1-2 2-2-1-4 4-6-2-1 5-1-2-2 6-3-1-3 5-4-1-4 5-2-1-2 4-1-3-1 2-11-1-2 2-3-1-1 2-2-1-4 2-5-1-2 2-4-1-4 3-2-1-1 2-4-1-3 2-1-2-1 2-6-1-2 3-6-2-4 2-9-1-3 2-2-2-1 2-2-2-3 1-1-2-1 4-2-1-1 6-4-4-1 5-6-1-2 5-7-1-3 6-1-2-1 7-2-2-2 9-7-1-1 8-5-1-2 9-1-2-4 8-2-1-2 9-1-2-1 12-2-1-4 12-4-1-4 11-11-1-3 9-2-1-3 8-2-1-2 10-4-1-4 11-12-1-3 4-2-1-2 4-6-1-2 4-5-1-3 3-8-1-1 3-6-1-1 2-2-1-2 2-4-1-1 2-2-1-4 1-1-2-1 2-2-1-4 2-8-1-1 3-3-1-5 3-3-3-2 2-11-1-3 2-2-1-3 1-4-3-1 7-1-4-1 7-2-2-3 6-5-1-1 5-6-1-2 2-11-1-1 1-4-1-3 2-2-1-1 2-7-1-1 3-8-1-1 4-1-1-3 11-7-2-7

12-3-15-1 11-8-2-1 9-8-1-4 10-4-2-1 44-4-1-4 10-4-1-3 9-8-8-1 11-6-7-4 9-7-4-8 9-8-3-1 8-5-1-2 8-1-2-4 8-4-1-4 9-2-1-8 9-5-2-5 11-11-5-1 11-11-5-2 12-1-18-1 11-6-1-3 12-3-7-1 12-3-8-2 12-3-7-3 12-2-5-4 11-3-4-1 12-1-3-1 11-11-1-3 11-11-1-4 11-1-2-5 11-1-3-3 10-4-2-4 10-4-1-8 9-5-1-4 9-2-1-7 8-4-2-3 5-5-6-1 2-5-2-2 2-5-2-3 2-1-8-1 3-3-3-2 2-5-1-5 2-8-1-10 6-6-2-1 6-5-1-11-4-7-4-4 1-3-5-4 2-7-2-6 5-7-1-1 6-3-3-2 7-5-1-2 2-2-3-1 1-4-5-2 1-3-4-5 1-1-5-1 6-2-5-1 6-2-5-2 5-5-7-1 2-4-2-3 2-2-2-1 2-3-3-1 2-4-4-3 2-1-3-3 1-4-4-1 1-3-6-3 12-3-2-2 12-1-6-1 11-7-2-4 10-1-4-5 8-2-3-3 8-4-1-7 8-1-2-2 10-4-1-910-2-2-3 10-1-2-3 9-4-1-6 9-2-1-9
Further Information: Soren's blog — Corruption Theory blog — Charlie Frost's Recap of Events — Unfiction thread